Next Meeting MARBLING WORKSHOP and BBQ
This is our first meeting for the year.
Please note that this meeting starts early, at 6:00pm, on the lawns. Please bring a chair and a salad to share. We will provide the BBQ sausages, bread, sauce, tea, coffee, etc.
Tuesday 28 February 2017 @ 6pm
Registration required for catering and marbling materials.
For further information contact Robert Ford: secretary@vbg.net.au
Special meeting in March
Notice of a Special meeting in March 22 UPDATE TIME and PLACE
Confirming the Meeting 22 March at 7pm at our regular Venue West Hawthorn Uniting Church see you there. No need to register at this stage just come.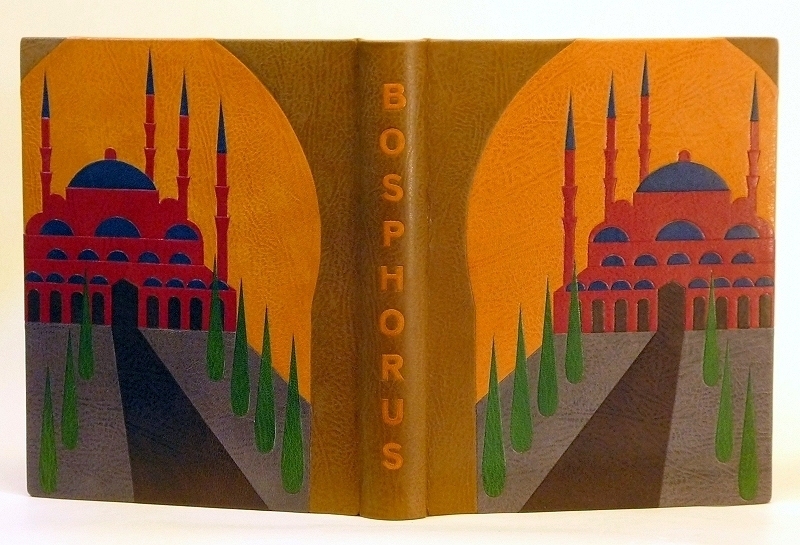 Bound by Hans-Ulrich Frey, Switzerland
Beauties of the Bosphorus
First edition by Miss Julia Pardoe, London.
Published by George Virtue 1838, illustrated with engravings by W.H. Bartlett.
Traditional French Binding in full Pentland Goat from J Hewit & Sons, blind tooled with inlaid leather-decoration.
Designed by Hans-Ulrich Frey, Offizin Parnassia Vaettis, Switzerland
Please visit their web site at www.parnassia.org
Meeting 28th March 2017
Meeting March 28th 2017
A number of our members will bring reports and information from the National Bookbinders Conference in Canberra, which concludes on the monday before the meeting. Our minds should be fresh and excited from all we have seen and heard. We aim to report on the highlights of the conference, and have lots of new ideas to share. See you there.